Abengoa announces a 20% EBITDA increase in Q1 2013
April 30, 2013
In the first quarter of the year, revenues increased by 19% to €1,850 million and EBITDA by 20% to €270 million.
Net income increased by 1% to €90 million.
Corporate debt was reduced to 2.9x.
The company signed an exclusivity agreement to sell Befesa, its industrial recycling subsidiary.
April 30, 2013.- Abengoa (MCE: ABG.B), the company that develops innovative technology solutions for sustainability in the energy and environment sectors, recorded revenues of €1,850 million in the first quarter of 2013, an increase of 19% compared to the previous year. EBITDA grew by 20% to €270 million compared to 2012, while net income increased by 1% to €90 million at the end of the first quarter.
Abengoa commissioned three new concession assets during the first three months of the year while continuing its investment plan. At the end of the period, total liquidity was €3,233 million while corporate debt was reduced by 0.3x to 2.9x.
Abengoa's geographic diversification continues to be one of the key factors behind its growth and strategy. The company's international activities account for 81% of total sales, of which 28% comes from the USA, which is now the leading region, 24% from Latin America, 12% from the rest of Europe and 17% from Asia and Africa.
Manuel Sánchez Ortega, CEO of Abengoa, said: "The first quarter confirms our estimates for the full year, which is characterized by a good performance in all our business areas except the thermo solar business in Spain. International sales accounted for 81%, confirming the trend".
Corporate transactions
Various key transactions have taken place during the first few months of the year as part of the company's ongoing efforts to maximize synergies between divisions.
On April 22, 2013 Abengoa signed an exclusivity agreement to sell 100% of its industrial recycling division, Befesa, to various investment funds managed by Triton Partners. The transaction values Befesa's total assets at €1,075 million. After customary net debt adjustments, total consideration for Abengoa would amount to €625 million: €352 million cash consideration at closing, a vendor note of €48 million with a four years maturity and deferred consideration valued at €225 million, which shall be received by means of a convertible loan, exchangeable into shares of Befesa at the moment of the exit of the Funds from Befesa.
On February 27, 2013 an agreement was also reached with Corning Incorporated to sell Bargoa, one of the company's Brazilian subsidiaries that manufactures telecommunications components.
These two transactions will reinforce the company's financial profile, strengthening the balance sheet with corporate leverage to be improved by 0.6x and with a total corporate net debt reduction of €400 million in order to focus on the company's principal business area, which includes the engineering, development and operation of solar-thermal plants, desalination plants, energy transmission lines and bioethanol production plants.
Results by segment
Revenues in the engineering and construction segment, including the result from technology activities, increased by 33% to €1,376 million. EBITDA also rose, by 25% to €233 million with a margin of 17%, in line with the previous year. The engineering and construction division won new contracts worth €845 million, an increase of 53% compared to the previous year, bringing the order book to €6,262 million as of March 31st, with identified commercial opportunities worth around €99,300 million.
Revenues in the concession-type infrastructures area, which primarily comprises electricity generation and transmission, fell by 6% to €68 million at the end of the quarter with EBITDA margin of 43%. The decline in this figure is due to the impact of regulatory changes on Spanish solar assets, as well as the highly unfavorable weather conditions during the quarter, which affected margins.
Sales in the industrial production area, which includes the bioenergy business, fell by 10% to €406 million with EBITDA of €8 million. All plants have come back into operation during April thanks to improved margins. The reopening of all plants will help to return to a more normal volume. The second generation plant that the company is building in Kansas (USA) is at 70% of completion expecting the start up in the first quarter of 2014.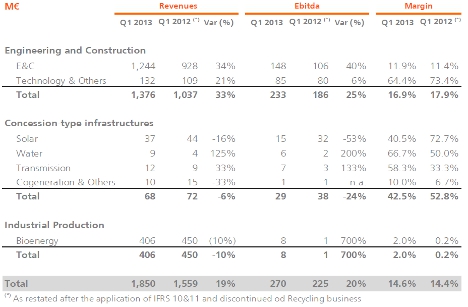 Financial targets
The company applied new accounts standards IFRS 10 Consolidated Financial Statements and IFRS 11 Joint Arrangements as of January 1st, 2013 (with retrospective application for comparative purposes) and accounted for Befesa as a discontinued operation in both periods presented, in accordance with IFRS 5.
Abengoa has updated its estimates for 2013 to reflect the agreement to divest Befesa and the application of IFRS 10 and 11.
Abengoa updated revenue target is between €7,250 and €7,350 million and EBITDA between €1,180 and €1,230 million in 2013. The midpoints of which represent a 3% and 12% increase, respectively, over the restated 2012 figures. Corporate EBITDA is expected to be between €800 and €825 million.
Details of the results presentation conference
Manuel Sánchez Ortega, CEO of Abengoa, and Bárbara Zubiría Furest, Co-CFO, Head of capital markets and investor relations, will give a conference to present the results, which will be simultaneously broadcast over the internet, at 6.00 pm (Madrid time) and 12.00 pm (New York time) today.
To access the conference please dial +34 91 788 93 03. The conference can be followed live via Abengoa's website (www.abengoa.com). We recommend accessing the website at least 15 minutes before the start of the conference to be able to register and download the audio software required.
A recording of the conference will be available in the Shareholders and Corporate Governance section of the Abengoa website approximately two hours after it has finished.
About Abengoa
Abengoa (MCE: ABG.B) is a company that applies innovative technology solutions for sustainability in the energy and environment sectors, generating electricity from the sun, producing biofuels, desalinating sea water and recycling industrial waste. (www.abengoa.com)
Communication Department:
Patricia Malo de Molina Meléndez.
Tel. +34 954 93 71 11
E-mail: communication@abengoa.com
Investor relations:
Bárbara Zubiría Furest.
Tel. +34 954 937 111
E-mail: ir@abengoa.com
You can also follow us on:

@abengoa_blog

Abengoa
and on our blog: http://blog.abengoa.es/